BBQ season is upon us and we're ready to fire up the grill. If you're a fair weather griller, these burgers also turn out great when fried in a pan with a little oil. Ground chicken or turkey is ideal for the recipe but I have certainly substituted ground beef and had an equally tasty burger. If making gluten free, use gluten free bread crumbs and a gluten free bun.
Be sure to tag us in your photos on Facebook so we can see your version of our family favourites!
Enjoy,
- Farmer John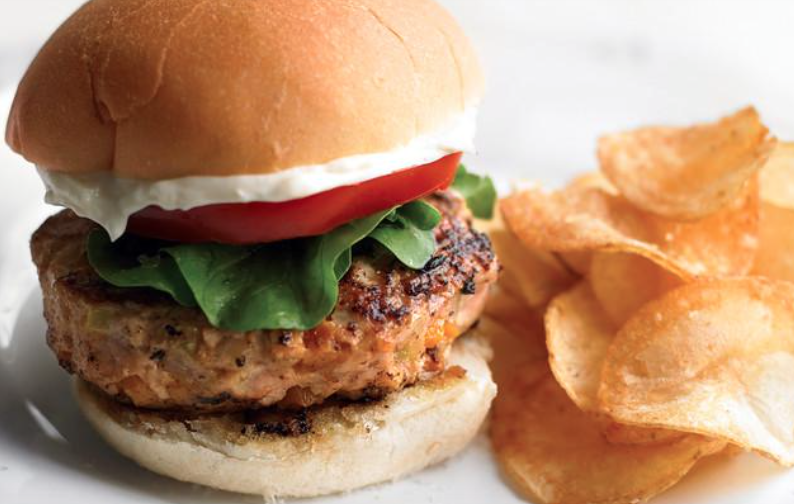 Ingredients:
1 1/4 lb (575 g) ground chicken
2/3 cup (175 ml) bread crumbs
1/2 cup (125 ml) onion, finely chopped
1/3 cup (85 ml) celery, finely chopped
1 egg
2 tsp (10 ml) Farmer John's Savory Sea Salt
1 Tbsp (15 ml) vegetable or olive oil
Method:

Combine all ingredients, with the exception of the cooking oil, in a large bowl
Shape mixture into six 4" patties (I like to use a burger press, but your hands work well too)
Fire up the BBQ and cook until cooked through

Alternatively, heat cooking oil in a skillet over medium heat and fry patties until browned and cooked through (6-8 minutes per side).

Place chicken on buns and garnish with lettuce, tomato and mayonnaise.
Approximate total time: 30 minutes
Serves: 6
- Farmer John